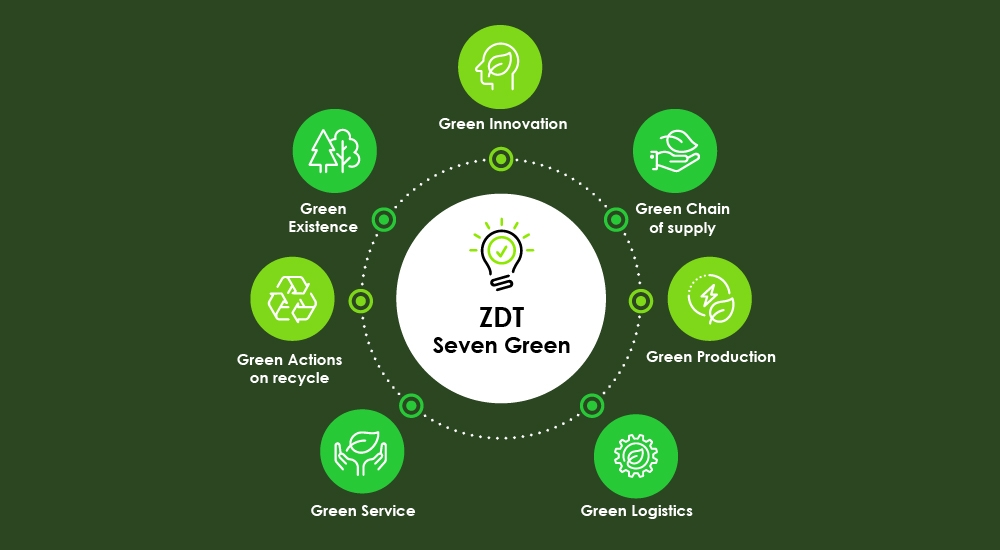 Zhen Ding Tech. Group's 'Seven Greens'
In 2008, we announced the concept of Zhen Ding Tech. Group's "Seven Greens": Green Service, Green Production, Green Existence, Green Chain of supply, Green Innovation, Green Actions on recycle, and Green Logistics, that made us SPECIAL on creating and promoting our green values and cultures as well as fulfill corporate society responsibility actively.

Green Service:Add green concept to customer service content and way (close to customer service, green alliance sustainable management)
Green Production:Improve production process, implement energy saving and waste reduction (develop production equipment with low energy consumption and low pollution emission)
Green Existence:In the company's overall operation management, staff work/life (comprehensive introduction of energy saving and consumption reduction concept at all levels)
Green Chain of supply:Strengthening green supply chain management requires suppliers to comply with green product specifications (meet RoHS/ halogen free requirements, etc.)
Green Innovation:Develop green materials and technologies (provide raw materials that are easy to handle/decompose/recycle)
Green Actions on recycle:Implement waste recycling (water recycling, waste recycling, heat recovery)
Green Logistics:Packaging and logistics improvement and improvement of transportation efficiency (materials use recyclable packaging materials, improve vehicle utilization rate and reduce fuel consumption)

The cultural concept of Zhen Ding Tech. Group's "Seven Greens" is deeply rooted in the hearts of all employees, and goes deep into all departments and operational links.